Event Description
Tally Soles Sneaker Fest is a Sneaker Event for Everyone. So come out and Buy, Sell, Trade, and Network!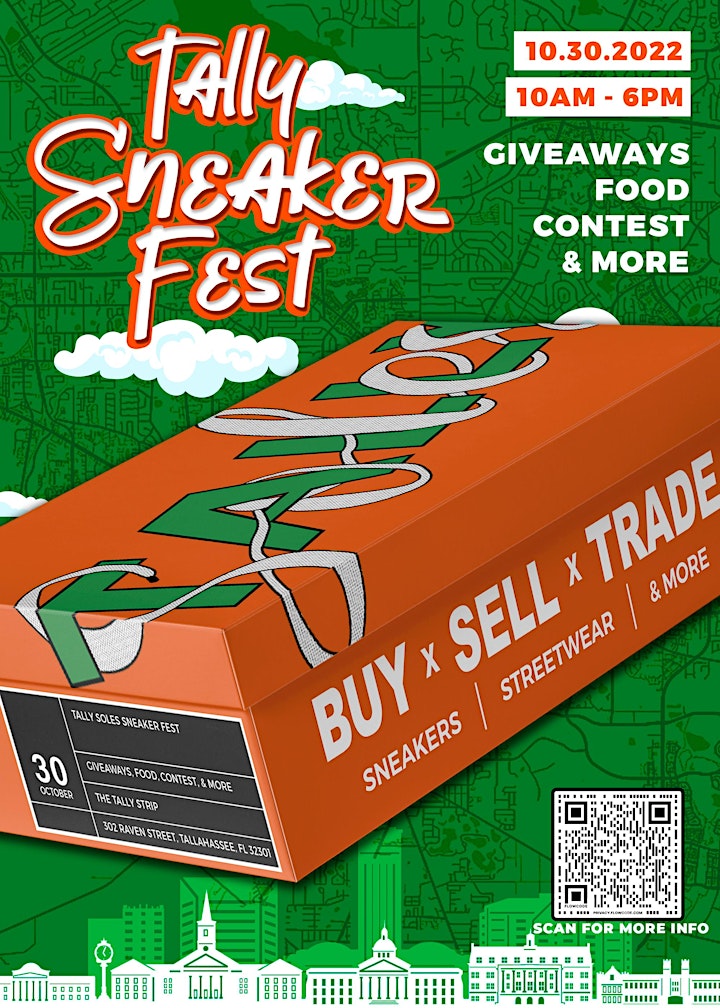 Tally Soles Sneaker fest:
Come be with us on Oct. 30th, 2022 from 12PM-6PM to truly see what the hype is all about!
Extra Amenities:
DON'T WORRY!! We will make sure to do our part in buying and selling protection by offering legit checking services! We will also be adding cell phone reception boosters throughout the venue.
Vendor Info:
Items such as weapons, drugs, & alcohol are NOT allowed to enter the facility!
*Tickets are suggested to be purchased online and will also be sold at the door.
FAQ's
Can someone outside of the vendors bring their own merchandise to sell?
– Yes! Anyone is welcome to bring any of their merchandise such as clothing or kicks into the event to sell! You are NOT allowed to bring in racks of clothing if you are not a vendor. You CAN bring a wagon with the purchase of a "G.O.A.T." Ticket Package.
Is there parking onsite?
– Yes! There is onsite parking outside of the facility!
How can I contact the Tally Soles Sneaker Fest. Admin team regarding any other questions?
– The best way to contact us is via Instagram or Email!
@urbanhustlers_
-invest@urbanhustlers.net
-Urban Hustlers & City 850 Team
Disclaimer: Urban Hustlers LLC and City 850 are not responsible for ANY lost or stolen items. Each vendor & attendee is solely responsible for their transactions and business. Urban Hustlers LLC and City 850 will be doing everything in their power for everyone's safety. By purchasing a ticket you acknowledge that Urban Hustlers LLC and City 850 are NOT responsible if you contract COVID-19 and you are waiving your right to sue Urban Hustlers LLC and City 850 in the event you contract COVID-19, have any lost or stolen merchandise and or get injured while at the event in any way.
Visited 21 times, 2 Visits today