Event Description
Sustain Frame presents a Culture Summit Small Business Market
On July 3rd, Sustain Frame will showcase its largest event to date at the stunning Hotel Saint Vincent in New Orleans, LA.
This market will be a lineup of experiences held that day, with this specific activation featuring a Black Creatives + Culture Market to highlight the creativity of 20+ local BlPOC creatives.
Keep checking the website to see updates about what ticketed events will be happening at the Hotel Saint Vincent that day!
Open from 11 AM – 4 PM – SUNDAY, JULY 3RD
Enjoy a live DJ set by Ghazi from 12 pm – 3 pm
Grab a bite from one of our vendors in the market or at one of the two on-site restaurants inside the Hotel Saint Vincent.
Cocktails are available at the bars on-site as well!
FIRST 100 TICKETS PURCHASED RECEIVE EXCLUSIVE GIFT BAG WITH GOODIES FROM PARTNERS AND FRIENDS ($75 Value)
EVANGELINE EVENT HALL – 11 AM – 2 PM
11:00 AM – 12:30 PM – MR.WOLF Coffee Pop-up (Community pass purchased required)
12:00 PM – 12: 45PM – Panel on Appropriation of the Black Community in fashion, media, and arts. Where does the disconnect to Appreciation end?
Ceaux Art Exhibition
Private Expanded Sitting area: Enjoy private restrooms, refreshments, and lounge seating throughout the day within the hall and patio set.
Water Stations
All ages /genders/ethnicities are welcomed!!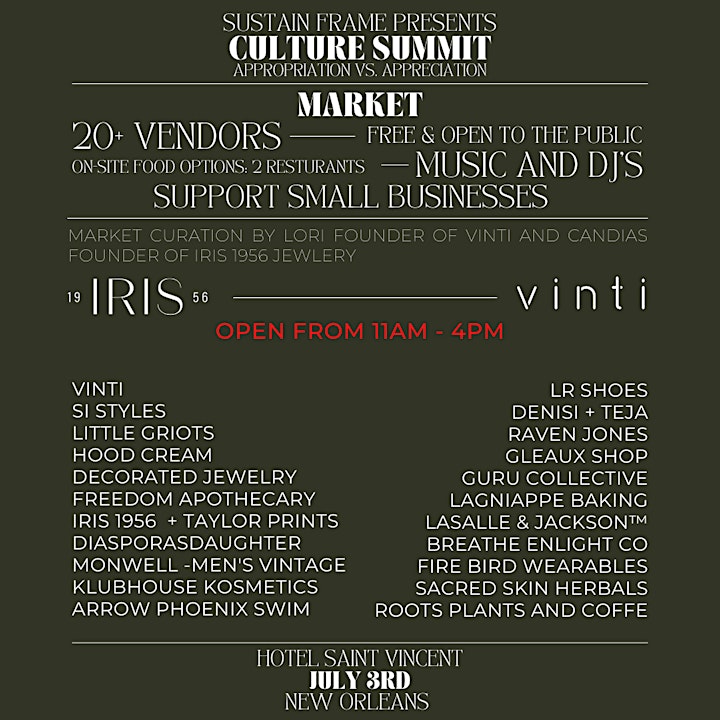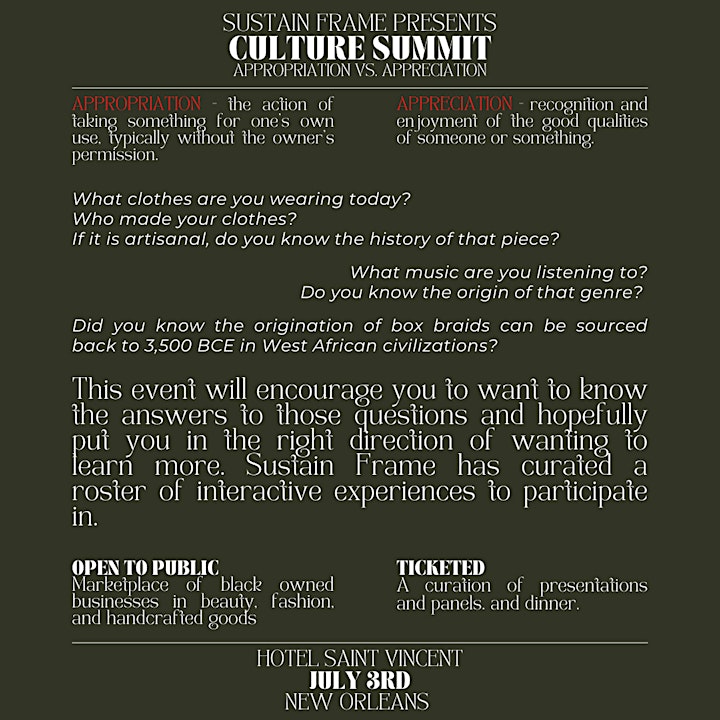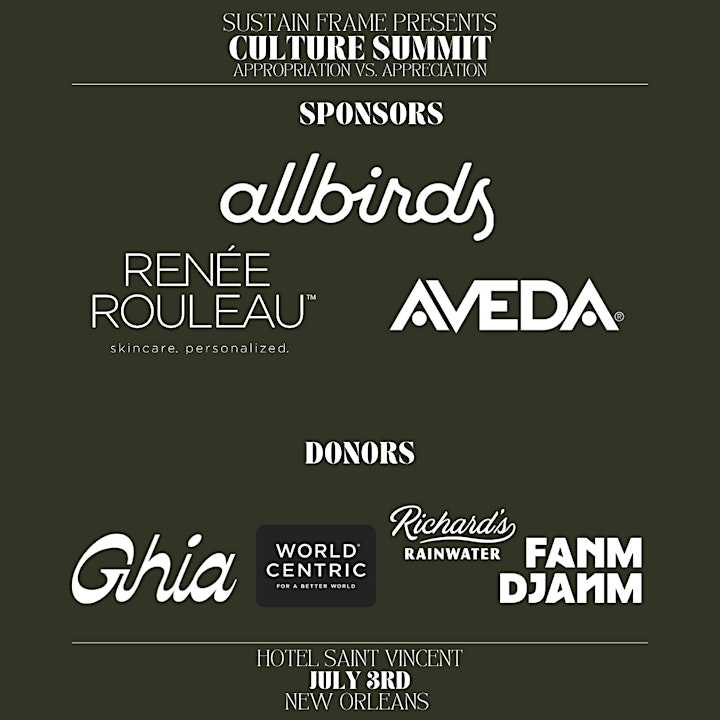 Krystal is the founder of Sustain Frame, a conscious lifestyle brand built to support and cultivate community through goods and services. Krystal found herself lost in the mix, working for various companies in the fashion and hospitality industries, concerned about their negative impacts on the planet. Her focus shifted to advocacy work in the environmental space with awareness of the intersectionality of social justice issues.
By creating Sustain Frame, she hopes to make a radical shift in the framework of the retail and hospitality industries.
In 1864, amid a yellow fever epidemic in New Orleans, philanthropist Margaret Haughery funded the construction of the Saint Vincent Infant Orphan Asylum. More than 150 years later, another visionary woman transformed the red-brick Italianate building in the Lower Garden District into a different kind of sanctuary during another epidemic. At Hotel Saint Vincent, Texas hotelier Liz Lambert—who introduced the hipster-hotel concept to places like Austin's South Congress Street and Marfa—brings her signature sense of nostalgia to the Big Easy. The 75-room retreat has a Southern Gothic vibe, from the gargoyles that creep along with the clock tower to Purgatory of Nuns, a series of prints by Julie Speed guides you up the main staircase. Most rooms have balconies and deep soaking tubs, and guests can find a treasure at By George, the tiny boutique, which carries things like face glitter, vintage Rolexes, and Dries Van Noten swimwear (for those late-night dips in the courtyard pool).
For more information about Sustain Frame contact us at info@sustain-frame.com
**By signing up for our event, your email information will be shared with our partners.
Visited 3 times, 1 Visit today