Event Description
Visionary Marketing Group & Day/Life would like to extend a warm "welcome to CHICAGO!" to everyone planning on traveling to CHICAGO for this year's ALL⭐️STAR 2020 festivities! 

This year Visionary Marketing Group (Dallas based) & Day/Life (Chicago based) have teamed up to not only deliver one of the BEST events during All⭐️STAR week/weekend but also offer something that your money simply cannot buy-"Peace of Mind". Below is what we offer. 

In basketball, if a game is tied after the regulation time has expired, the game is extended. There are no "tie" games in basketball- Overtime! More Basketball for One Price! 



**********We plan on bringing these same set of rules to our events here in Chicago!**********
We present a TWO-PART event series located at Bar 22, located at 2244 S. Michigan Ave. 
*Event 1 of the series* is DOUBLE DRIBBLE, a Day Party Event from 2P-7P that will include specially invited NBA & Celebrity guest in attendance! 


*Event 2 of the series* is a OVERTIME, a Night Party Event from 9P-2A that will include specially invited NBA & Celebrity Guest in attendance! As well as a musical perfomance by a well known artist.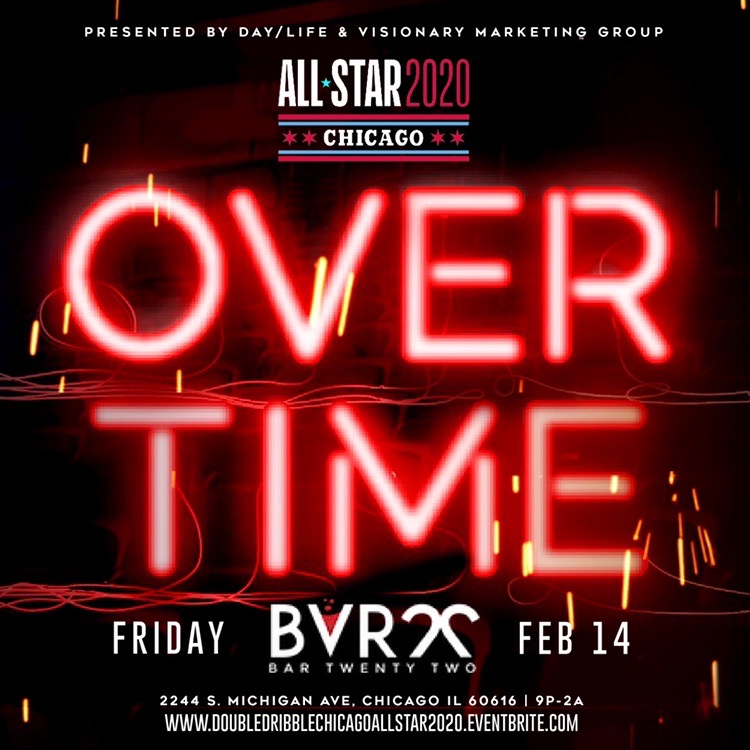 •We have package deals for attendance to BOTH events!
•Discounted admission to guest that have physical Game-Day Tickets to the Celebrity Game at Wintrust Arena (just ONE city block away).

•Early Bird Tix for BOTH or Either event

•Group Packages
•Birthday Packages

•Table Packages  (First come. First Served.)

We have partnered with Bar 22 (2244 S. Michigan Ave.) located exactly 1 city block from Wintrust Arena, a $175 million dollar project that will seat 10,000 patrons for the NBA ALL⭐️STAR CELEBRITY GAME On Friday February 14th 2020. 


Wintrust Arena Celebrity Game Basketball Arena
For More Information please contact us at 312 375 9100
Purchase Tickets For This 2020 NBA All Star Weekend Event Below.
Visited 29 times, 1 Visit today