Event Description
Please join Jermichael Finley, Dan Manucci, Legacy Cares, and Sold Out Youth Foundation for drills, exercises and fun!
WHAT TO EXPECT
Led by coaches and trainers from Jermichael Finley's Elevate U, Dan Manucci's Quarterback University, players and coaches can expect a one of a kind experience at Bell Bank Park for Legacy Cares' first annual Youth Football Camp powered by Sold Out Youth Foundation.
Athletes determined to take their game to the next level need an opportunity to elevate their skill through a custom, unique and advanced training experience. The greatest lessons, growth and achievement come from opportunities that set athletes skills and mindset apart from the rest.
Along with advanced skill and position training, this camp will provide athletes with the chance to learn from top trainers and professional athlete mentors who will advance their game along with their mindset to take that next step to help find success.
Please be advised this camp is intended for 8th grade to 12th grade students.
TEAM & PLAYER RELEASE WAIVER
All teams and players participating in this year's camp will be required to complete the ElevaTEU Release waiver. Waivers will be sent electronically to all coaches and parents after registration has been confirmed.
SCHEDULE
4:30pm – 5:30pm – Team & Player Registration
5:30pm – 5:45pm – Camp Welcome & Coach Introductions
5:45pm – Stations, Drills, and Workouts with Coaches & NFL Players
7:30pm – Sold Out Youth Foundation Drug & Alcohol Pledge
7:45pm – Camp Awards & Final Remarks
8:00pm – Team & Player Check Out
ENGAGEMENT OPPORTUNITIES
Vendor spaces and sponsor opportunities will be available during the camp. For additional questions regarding sponsor and vendor opportunities, please contact Austin at Austin@LegacyCaresInc.com.
QUESTIONS
For additional questions on how to sign up your athlete or team, please contact our office at info@LegacyCaresInc.com and a member of our team will be happy to help you.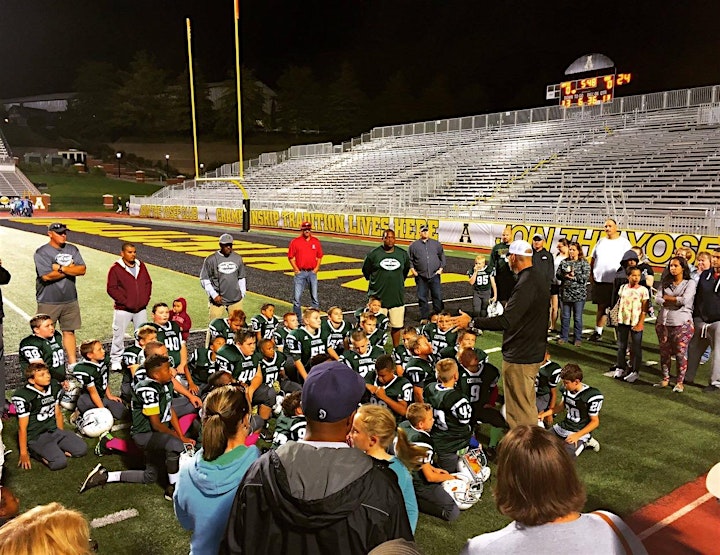 ABOUT LEGACY CARES
Legacy Cares, Inc. is a 501c3 non-profit organization dedicated to providing athletes and non-athletes alike of all ages, economic backgrounds, and levels of athletic proficiency the opportunity to participate in sports while fostering the enjoyment and camaraderie of teamwork and perseverance, key components in athletic competition and lifetime success. Its mission is to provide families a safe, friendly, high-quality environment in which to experience different sporting, artistic, educational, and entertainment amenities. Legacy Cares serves the community by providing opportunities to explore, learn, and develop new and existing skills in order to extract untapped abilities while promoting a healthy lifestyle. Read more here.
ABOUT SOLD OUT YOUTH FOUNDATION
Sold Out's Mission is to educate, encourage, and challenge students to live a life of alcohol and drug abstinence, while delivering a 100% intentional interactive online video life skills, and overall health, wellness, and fitness education platform. The Sold Out School Program is all about building trust between community, parents, and schools. Read more here.
ABOUT JERMICHAEL FINLEY AND ElEVATEU
Jermichael Finley is a former Green Bay Packer TE. The University of Texas standout was drafted by the Packers in 2008 where he had a successful 6-year career, including helping lead the team to a Super Bowl win. Now residing in his home state of Texas, Finley is a proud dad and is involved with their teams and activities. Finley is also exceptionally passionate about supporting athletes' journeys as they seek to take their game to the next level. Through specific TE training, mentoring athletes through their career journeys, and sharing the importance of a positive mindset, Finley is determined to help athletes make the most of their game in order to be their best on and off the field. Read more here.
ABOUT DAN MANUCCI'S QUARTERBACK UNIVERSITY
A quarterback for McClintock High School, he played football at MCC in 1975 and 1976, and was a member of the 1975 national champion football team. Dan earned a football scholarship to Kansas State University where he led the Big 8 in passing his senior year and received a 1978 All-Big 8 Honorable Mention. He was selected by the Buffalo Bills in the fifth round of the 1979 NFL Draft and played three seasons with the Bills, returning to the team again in 1987. During his career, he also played for the Canadian Football League's Toronto Argonauts in 1981 and the United States Football League's Arizona Wranglers in 1983. Dan teaches quarterbacks the skills necessary to conquer any challenge, both on and off the field.
Purchase Legacy Cares Youth Football Camp Arizona Super Bowl Weekend at Bell Bank Park Tickets Below:
Visited 28 times, 3 Visits today