Event Description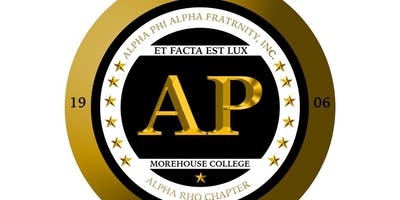 Alpha Phi Alpha Fraternity, Inc. – Morehouse College (1924-2019)
Homecoming 2019
September 22, 2019
AP Alumni and Morehouse Alpha Brothers
95th Alpha Rho Chapter Anniversary Homecoming
Morehouse College
830 Westview Drive SW
Atlanta, GA 30314
AP Brothers and My Brothers of Alpha,
On January 5, 2019, the Alpha Rho Chapter will celebrate its 95th Chapter Anniversary.
As we prepare to kick-off these activities this fall, we hope you will join us for Homecoming 2019 Pre-Game Homecoming activities.
On Friday and Saturday, October 25-26, we will gather in Atlanta to celebrate our Annual Homecoming Reunion and Line Anniversaries for years ending in 4's and 9's.
We congratulate the following lines who will celebrate their special anniversaries this year:
50th Year – Fall 1969 – Determined 22

 

45th Year –Fall 1974 – Arrogant 8

40th Year – Fall 1979 – Temerarious 25
35th Year –  Fall 1984  – Contumacious 10

30th Year – Fall 1989 – Serruptitious 20*

25th Year – Fall/Spring 1994 – No Lines

20th Year – Spring 1999 – Intrepid 25
15th Year – Fall/Spring 2004 – Imperious 20
10th Year – Fall/Spring 2009 –  APotheotic 21
Brothers, please register online via the Chapter's Homecoming Eventbrite site through October 23nd at 11:59 pm. Ticket price increases take effect on October 24, 2019.
Register today. All pre-registered brothers can pick up tickets and wristbands at the Welcome Center starting Thursday, October 24rd (Noon-5 pm) and Friday, October 25 (Noon-5 pm)
Registration for:     
Friday, October 25th
(Noon – 5)            Pre-Registration Ticket and Wristbands Pickup  (Food and Beverage)
Saturday, October 26th   
(2 pm)                 Homecoming Game (Tickets sold separately)                                

(Noon-6pm)         AP Homecoming Tailgate   (Lot area behind King Chapel) 

(6:30 pm)            Singing the Fraternity Hymn  – Plaza of King Chapel  

(7 pm – 11 pm)     Homecoming Stepshow  (Forbes Arena)     
Sunday, October 27th 
(9:30 – Noon)       AP Line Gatherings (Various locations)
Additional Tickets:  Homecoming Game ($25 adults, $20 Students, Free 4 and under)
Homecoming Stepshow Tickets ($35.00 adults, $25 students, free 4 and Under)
Click here to register to pay now.
Fraternally,
The AP Homecoming Planning Team
PS: For questions, please reach out to Bro. Joseph Thomas, Chapter Treasurer at joseph.thomas@morehouse or myself.
Visited 117 times, 1 Visit today