Essence Book Signings | Black Writers Gather at New Orleans Ernest N. Morial Convention Center – New Orleans, LA
2
2 people viewed this event.
Don't miss this upcoming Essence Festival Event. Happening on Friday, June 30, 2023, Doors Open at 11:00 AM.
Meet hundreds of readers and build a following
Want to host a book signing at Essence?
Want to meet new readers and network at Essence?
Delphine Legacy Media is hosting book signings at Essence. That's right!!!
Thousands will walk through the expo floors where you can sign books, meet readers, and connect with more writers such as yourself.
Spaces are limited but if you are unable to sign with us you can advertise in our bags and have your items distributed throughout the Essence Fest.
Have questions email us: info@delphinelegacymedia.com 🙂
*this is not a official Essence event
*please note there are no refunds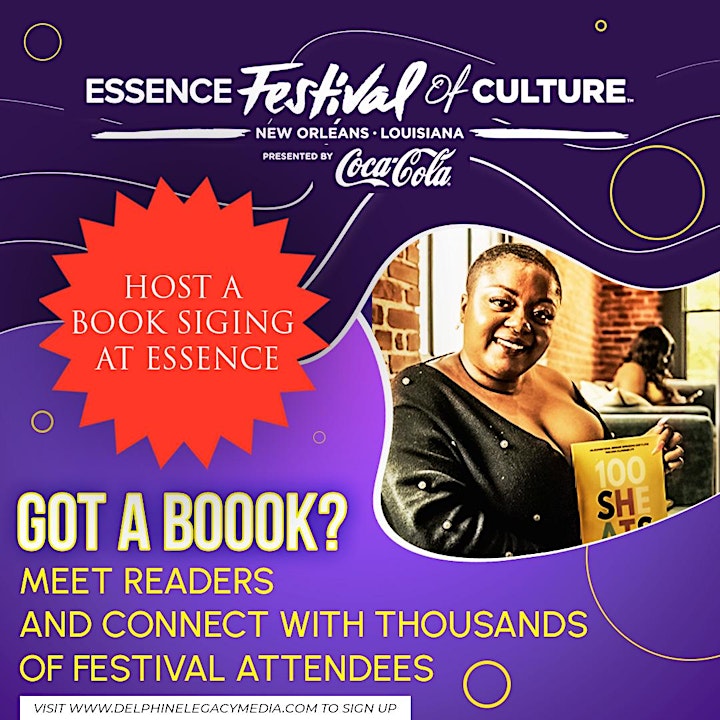 Purchase Essence Book Signings | Black Writers Gather Tickets Below:
Additional Details
Event Venue - New Orleans Ernest N. Morial Convention Center
Timezone - America/Chicago
Additional Keywords - Essence Book Signings | Black Writers Gather, Essence Festival Event, Event in New Orleans, Local Event, Festival or Fair Event, Event, Things To Do In New Orleans, Event Near Me, Upcoming Event in New Orleans LA, Essence Book Signings | Black Writers Gather Tickets, Local Event in New Orleans, New Orleans Events Guide, New Orleans Event Listings, New Orleans Event Directory, Event Calendar, New Orleans Event Calendar, New Orleans Event Guide, New Orleans Event Search, New Orleans Local Event Search, New Orleans Local Event Calendar, New Orleans Local Events Near Me, Local Event Listings, Local Event Search
Schema City - New Orleans