Event Description
FTK Fridays! |The Educator's Happy Hour Experience! | Drink, Eat, Mingle
Gather up the crew & join us this Friday at Cosmo Hookah
FTK Fridays! |The Educator's Happy Hour Experience! | Drink,Eat,Mingle
Gather up the crew & join us this Friday at Cosmo Hookah Lounge & Bar for the "FTK Fridays" The Educator's Happy Hour! For Educators By Educators.
If you've had a long week come kick back, take in the vibes & enjoy THE FTK FRIDAYS Happy Hour specials on Drinks, Food & Hookah, were open from 6 to 10pm.
Food & Drink Special's:
•$5 Tito's, Crown, Patron, Don Julio, Hennessy & Jack (Drink or Shots)
•$8 Jumbo Wings (6) & Fries
•$15 Lamb Chops platter
Whether you come to dance, enjoy a Hookah to unwind, or celebrate a special occasion with VIP Table Service we're ready to make your happy hour experience amazing!
Secure your complimentary reservation now by clicking the "Register" button. Tables are first come first served.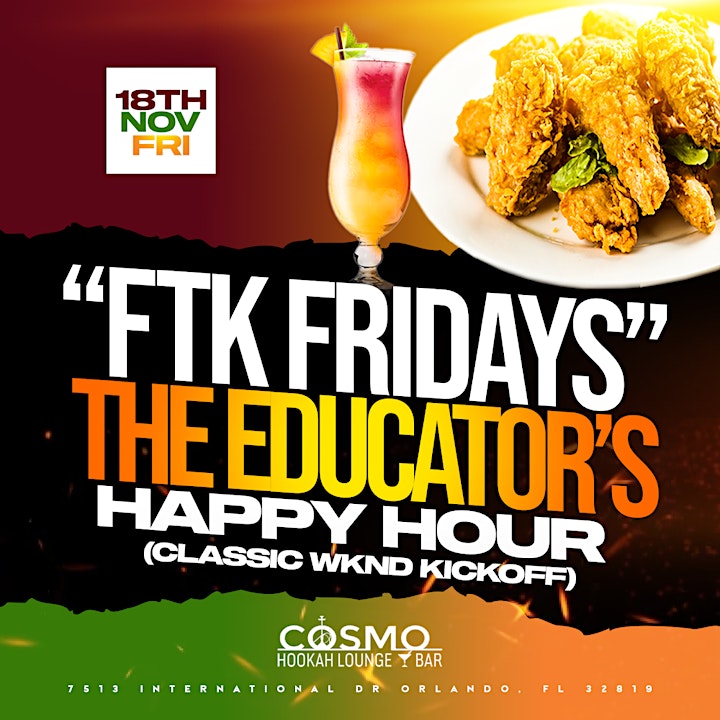 Purchase Tickets For "FTK FRIDAYS" The Educator's Happy Hour (Classic Wknd Kickoff) – a Florida Classic Weekend Party Below:
Visited 23 times, 1 Visit today