Event Description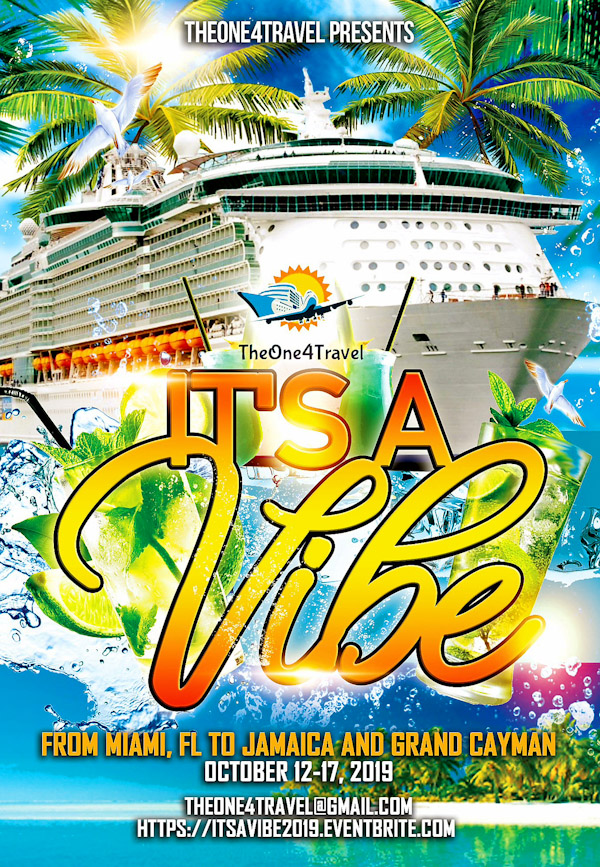 2019 It's A Vibe Cruise
5 day Cruise from Miami, FL to Jamaica and Grand Cayman 
October 12 – 17, 2019

Cruise Itinerary
Oct 12 – Miami, FL 4pm
Oct 13 – Fun Day At Sea
Oct 14 – Ocho Rios, Jamaica 10am – 5pm
Oct 15 – Grand Cayman (tender to port) 9am – 4:30pm
Oct 16 – Fun Day At Sea
Oct 17 – Miami, FL 8am

Cruise Rates Starting At:
Inside Cabin
$453 per person – Double Occupancy
$388 per person – Triple Occupancy
$355 per person – Quad Occupancy
$761 – Single Occupancy

Oceanview Cabin
$515 per person – Double Occupancy
$429 per person – Triple Occupancy
$386 per person  – Quad Occupancy
$885 – Single Occupancy

Balcony Cabin – SOLD OUT
$783 per person –  Double Occupancy 
$605 per person – Triple Occupancy
$521 per person – Quad Occupancy
$1,400 – Single Occupancy 
Suite is available $969.52pp Double Occupancy
What's Included

5 days aboard the Carnival Sensation
All accommodations and meals
Entertainment and most onboard activities
All taxes and port charges 
Champagne and Chocolates in each cabin 
$50 Onboard Credit per cabin
IAV Afrikan Xpression Party with Open Bar 
(Wear your African Inspired Attire. Wakanda Forever!)
IAV Black and Gold Elegant Night
Other IAV activities To Be Announced

Note:  It is not required to attend the IAV events.
What's Not Included
Transportation to/from Miami International Airport
Transportation to/from Port of Miami
Gratuities of $13.99 per person, per day
It's A Vibe Beach Bash in Ocho Rios, Jamaica

It's A Vibe All-Inclusive Beach Bash at the Jewel Dunn's River Beach *
*additional fee – $110 per person (payment plan available)

What's Included:


Round trip transfers from port of Ocho Rios


Full access to resort amenities including 2 epic pools, golden beach and 2 hot tubs


Unlimited dining at any of three restaurants for freshly prepared meals and snacks


Unlimited refreshing alcoholic beverages and cocktails, sodas and juices at any of three bars


Comfy lounge chairs and towels


Pool Concierge with refreshing cold towels, fresh fruit skewers & cold spritzes


Use of Kayaks, Hobie Cats and windsurfing in the Caribbean Sea – all included!


Gym with Nautilus, lifecycle, and free weights


Volleyball, tennis courts, Pitch and Putt golf Course and more


Internet Café & WiFi in Lobby – touch base with family and friends back home for FREE!


If you have found this travel package after payments have began, you are still allowed to register as long as space is still available.  
After initial deposit is made, you should be prepared to bring your payments current within 30 days.

Payment Due Dates:

---
$25.00 or more per person – September 15, 2018
$25.00 or more per person – October 15, 2018
$25.00 or more per person – November 15, 2018
$25.00 or more per person – December 15, 2018
$25.00 or more per person – January 15, 2019
$25.00 or more per person – February 15, 2019
$25.00 or more per person – March 15, 2019
$25.00 or more per person – April 15, 2019
$25.00 or more per person – May 15, 2019
$25.00 or more per person – June 15, 2019
$25.00 or more per person – July 15, 2019
ALL REMAINING BALANCES DUE, if any August 2, 2019

Policies, Payments, & Fees
– Payments to TheOne4Travel are Non-Refundable & Non-Transferable unless travel insurance is purchased.

– A passport is not required for this event but they are recommended.
– Please register in the name shown on your passport or government issued identification.
– If you are not traveling with a passport, valid government issued identification and a certified birth certificate with seal is required.
– You must provide your own transportation to/from Miami, FL.  Airfare can be purchased at an additional cost.
– Travel Insurance is available for purchase at an additional cost.  If one person in cabin purchase insurance, everyone in the cabin must purchase travel insurance.  Please send an email to theone4travel@gmail.com.  Be sure to include your full name birthdate, type of cabin, and number of occupants in the email.
– It is best to pay your initial deposit as soon as possible to guarantee you are locked in at the current rate.  Rates are subject to change.
– Payment plans are allowed as a convenience.  Failure to make payments as agreed will result in cancellation of your reservation and forfeiture of all monies paid.  
– When initiating a booking within 60 days of departure, the total cost must be paid in full at the time of registration.  Payment plans are NOT available for new bookings within 60 days of departure.
– Reservations for the occupancy selected are confirmed once initial deposits are received from ALL listed roommates.
– All roommates must make their initial deposit within 7 days of the 1st roommate's deposit.  If all deposits are not received, your accommodations will be confirmed based upon the number of deposits received.  (Ex: if quad occupancy is selected and deposits have only been received from 2 listed roommates, your accommodations will be confirmed as double occupancy.)
– It is imperative to make sure that your roommate's payments are made in a timely manner.  If your roommate does not make timely payments or decides not to attend, you will be required to pay a higher Occupancy Rate.
– Refunds will NOT be provided due to a roommate's cancellation.
– Gratuities $13.99 per person per day are not included.  You can pay them in advance.  If you do not pay them in advance they will due on the last day of the cruise.
– A $50 late fee will be imposed for all payments received after the final payment deadline.
– Checks are not accepted 30 days prior to departure.
– If payment made via E-check is returned, there will be a return check fee of $35.  Your replacement payment, including the $35 return check fee must be paid within 72 hours via credit/debit card.
– All correspondence regarding this trip is sent via email.  Please provide an email address that is checked frequently.
– TheOne4Travel reserves the right to use all client images or likeness in connection with still photography or recorded video.  Attendance at any TheOne4Travel event gives consent to be photographed for use in print or electronic publicity on social media sites. 
Payment Methods
Trip Website: https://itsavibecruise2019.eventbrite.com
Credit/Debit Cards and Electronic Checks are acceptable forms of payment.  There's an additional fee charged for making payments via the trip site.  These fees ARE NOT deducted from the cost of your trip.

You can also pay over the phone by calling the number listed below.
Any questions, please don't hesitate to contact
Barbara 
email: theone4travel@gmail.com
phone: 972-866-4588

Purchase Tickets For This 2019 Miami Carnival Party Below.
Visited 147 times, 2 Visits today