Event Description
  PLEASE SCROLL DOWN FOR INFO ON BOTH SILENT PARTIES
 "The Pre Essence Festival "
The Silent Headphone Party On Thursday, July 4th, At The Astor Crowne Plaza From 7pm to 12am.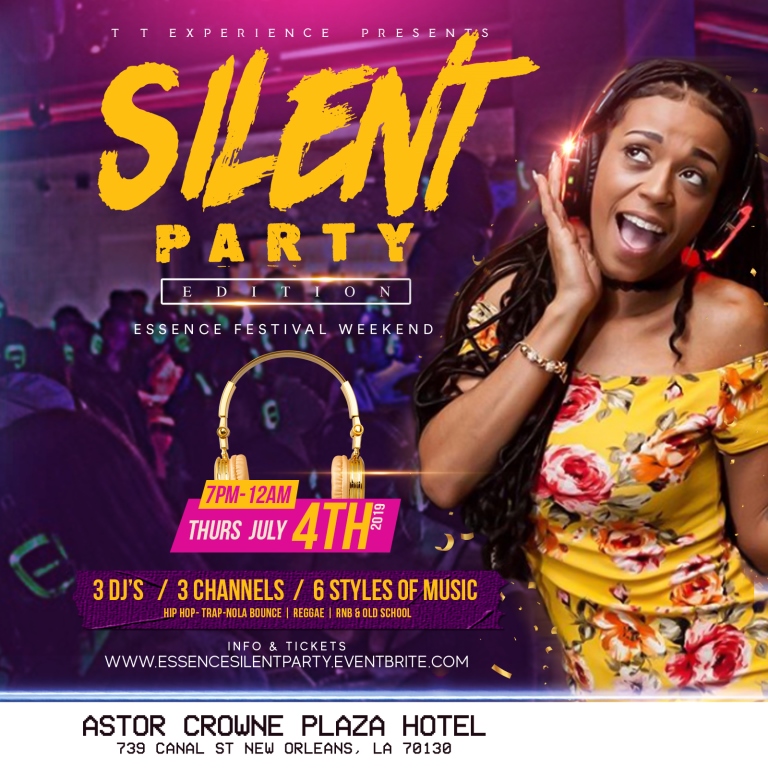 "The Essence Festival Silent Day Party"
The Silent Headphone Party On Saturday, July 6th At The Astor Crowne Plaza From 2pm to 7pm.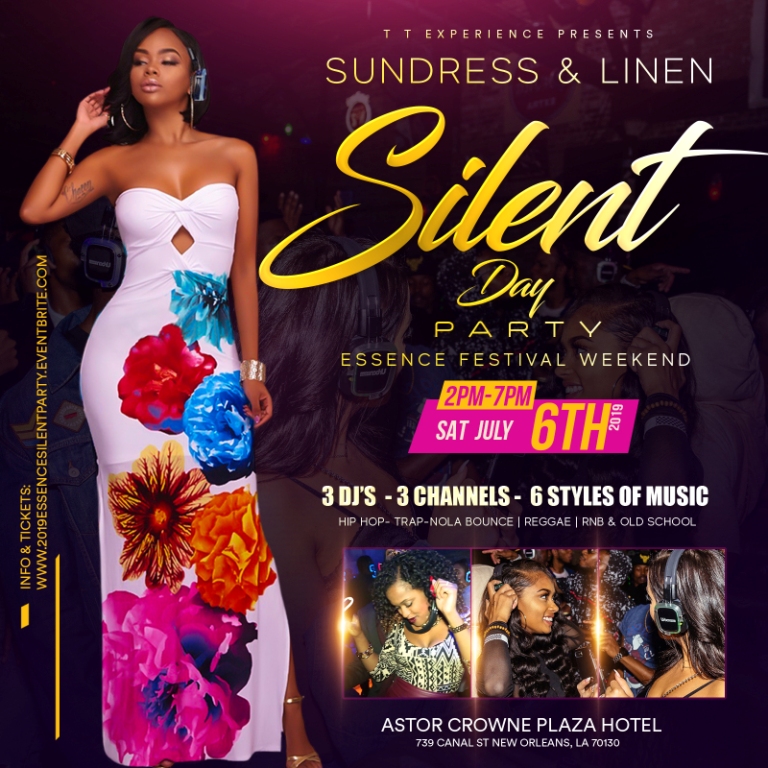 We're Serving Some Great Drink Specials All Day, With 3 Dj's At The Same Time Spinning The Best Of The Best Music From The 80's, 90's Early 2000's To Hip Hop Top 40, RnB To Reggae, Soca, Dancehall Tunes And All Your Favorites That's Good For The Soul On One Headphone With 3 Channels To Dance Too.
Party With Your Friends, Party With Others, Party Alone You DECIDE YOUR GOOD TIME WE GOT THE REST!
SPECIAL CELEBRITY GUEST (TBA)
For Your Musical Journey The Choice is Yours!
3 Dj's – 3 Channels – 6+ Styles Of Music – All At The Same Time
     >DJ (TBA): Blue Channel – Hip Hop, Trap, Nola Bounce
     >DJ (TBA): Red Channel – New & Old School, R&B
      >DJ (TBA): Green Channel – Reggae, Dancehall, Caribbean Beats
Tell A Friend Tag A Friend
The Details You Need To Know:
Location: ASTRO CROWNE PLAZA
739 Canal Street, New Orleans, La 70130
Dress Code: SUNDRESS & LINEN
Who Can Come To Party and Play: 21 +
Cover Charge: $15 EARLY BIRD SPECIAL Thursday, July 4th @ 7pm – 12am

Cover Charge: $20 EARLY BIRD SPECIALSaturday, July 6th @ 2pm – 7pm

***Ticket Purchase Includes Admission And Headphones***
VIP – INFO – 321-236-0407
What to bring:
>No need to print your ticket, just show the code on your phone or they will have your name at the door.
> Valid government issued ID required for age verification.
>You MUST have a credit or debit card for the check-in process. If the headphones are NOT returned, there will be a $50 charge to your credit or debit card after the event.
How it works:
When you arrive you'll receive a pair of special wireless headphones. You can adjust the volume and choose between up to three DJ's with a flip of a switch. Each headset has a color LED that shows what channel you are listening to. It's super social; you're in control of the music! There's no loud music that you have to talk over. Plus, there's no ringing in your ears when you leave!.
Travel Planners
Need to purchase 20+ tickets please email us at trippintravelinc@gmail.com to save when you are buying 20+ tickets.
T-T EXPERIENCE
Visited 257 times, 2 Visits today