Event Description
NOIR – Are you looking for an exclusive elite and sexy alumni event for GHOE?  "NOIR" is a royal all black affair designed to target the elite young alumni during the GHOE weekend.  "NOIR" is the most highly anticipated event of North Carolina A&T homecoming.  On Friday, Oct. 25, 2019 come experience GHOE like never before with "THE ROYAL COMMITTEE".  This event will leave you speechless with a view of downtown Greensboro, with an elaborate experience. Please allow Noir to take your mind back to 1999 and bring you to 2019.
Hosted by: Terrence McNeill & Fred Whit & Brandon King (BK) & Nakia Burney
Special Guest Live on Stage: DC's own "BLACK ALLEY" BAND
When:  Friday, October  25,  2019
10pm-until (Early arrival is suggested)
Where: Kress Terrace (Downtown Greensboro)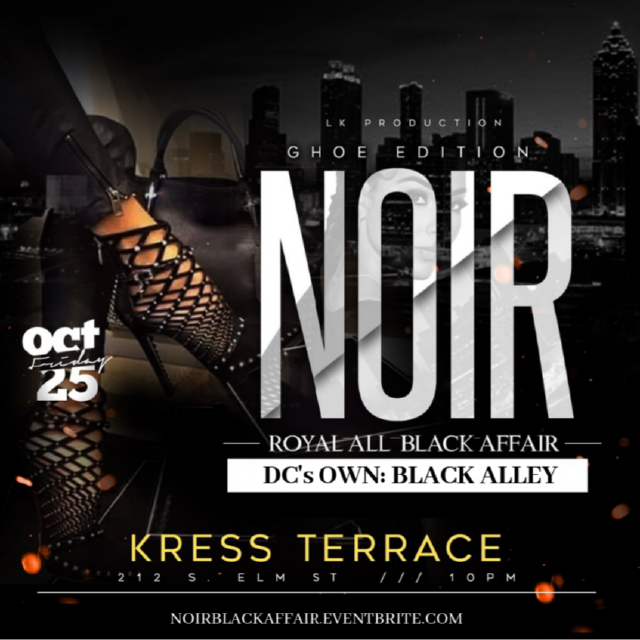 For entry, the following guidelines will be strictly imposed:
– Dress Code: Clean, Chic & Refined
– All Royal Black attire is a must (No Exceptions)
– SPGBK VIP CHAMPAGNE & PREMIUM COCKTAIL LOUNGE (ONLY VIP TICKET HOLDERS)
– Special Guest Dj Lil Vegas, 
– Dc own BLACK ALLEY Band
–No Athletic Wear (No Caps)

– 21+  (25+ preferred)
No exceptions will be made concerning the event guidelines.
WE RESERVE THE RIGHT TO REFUSE ADMISSION
Limited Amount of VIP Tables & Booths available: Contact 336-549-7783
NOTE: For Tickets To The  Official & Annual Homecoming Explosion GHOE 2019 with __________ TBA
Visited 91 times, 1 Visit today