WELCOME TO HBCU REUNION WEEKEND KICKOFF !!! at RMYK – Baltimore, MD
1
1 people viewed this event.
Don't miss this upcoming Party or Social Gathering Event. Happening on Friday, February 24, 2023, Doors Open at 8:00 PM.
HBCU CIAA WELCOME BACK
HBCU REUNION 
Upscale Bar 
HBCU takeover 
 #CIAA
TRIXx ZEKE & FACEJAY ELITE
PRESENT :WELCOME TO THE HBCU TAKEOVER
WELCOME BACK
featuring LIVE BAND PERFORMANCE 9pm -10pm
Dj 59
Dj Different
RMYK 8`9 E. PRATT STREET BALTIMORE
Come Experience the Lifestyle we Take Pleasure Serious !!!!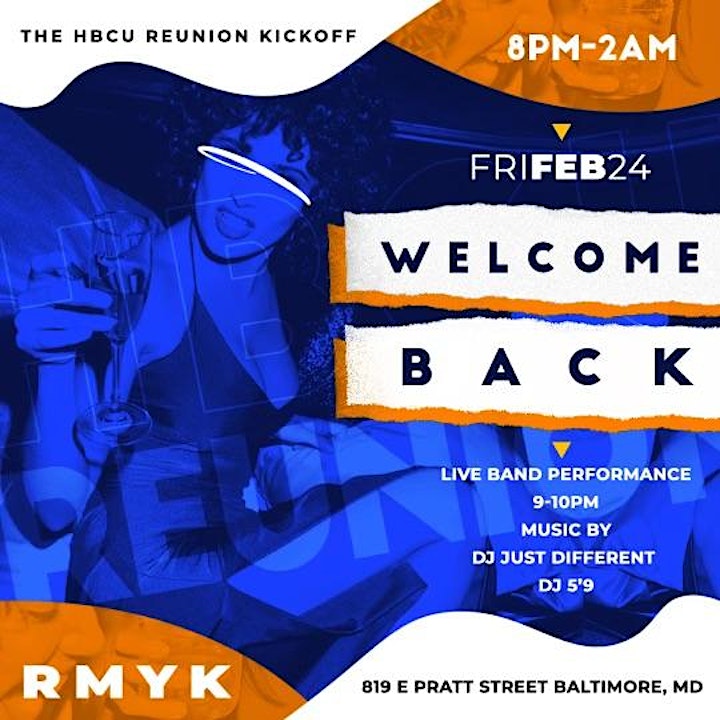 Additional Details
Timezone - America/New_York
Additional Keywords - WELCOME TO HBCU REUNION WEEKEND KICKOFF !!!, Event in Baltimore, Local Event, Party or Social Gathering Event, Event, Things To Do In Baltimore, Event Near Me, Upcoming Event in Baltimore MD, WELCOME TO HBCU REUNION WEEKEND KICKOFF !!! Tickets, Local Event in Baltimore, Baltimore Events Guide, Baltimore Event Listings, Baltimore Event Directory, Event Calendar, Baltimore Event Calendar, Baltimore Event Guide, Baltimore Event Search, Baltimore Local Event Search, Baltimore Local Event Calendar, Baltimore Local Events Near Me, Local Event Listings, Local Event Search